☑ 14.Nov-20.Nov.2021




☑ 21.Nov-27.Nov.2021

7 TAGE / 6 NÄCHTE AB/BIS OSAKA


ab 3100 €
Abfahrt: Osaka
This touring course will allow you to feel the beauty of nature, such as the white wave crests of the Sea of Japan and the magnificent mountains in each season. You will see some of the most iconic location of Japan: Mount Koya, one of the most sacred places in Japan, Ise and its marvellous Ise Shrine and then Kyoto, the most beautiful and iconic city in the world, with all its marvellous temples and shrines. Above all, the riding course involves a variety of characteristics, such as diversely winding roads with beautiful scenery highly recommended by local people, and highways on which you can feel the thrill of cruising on a motorcycle, ensuring that you enjoy the entire time.
REISEPLAN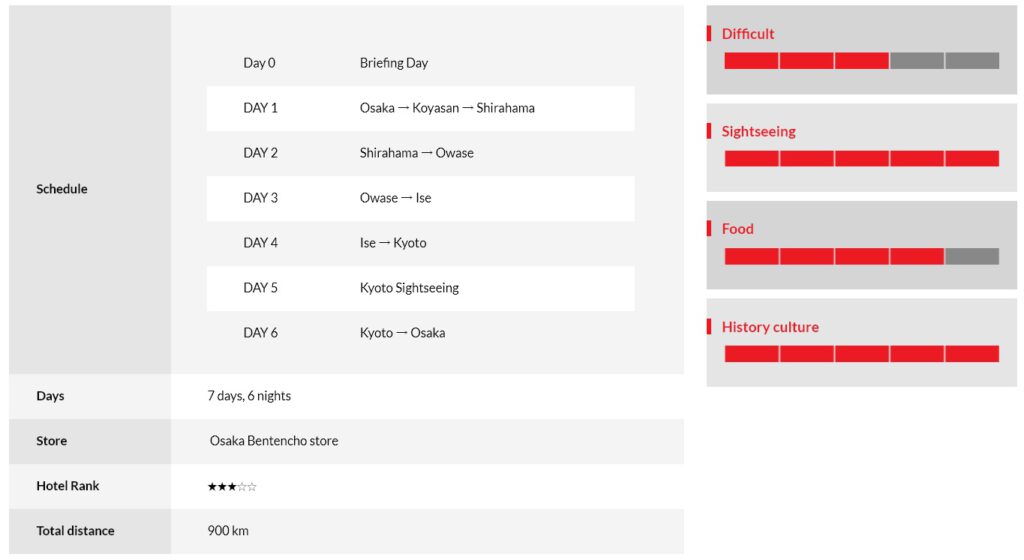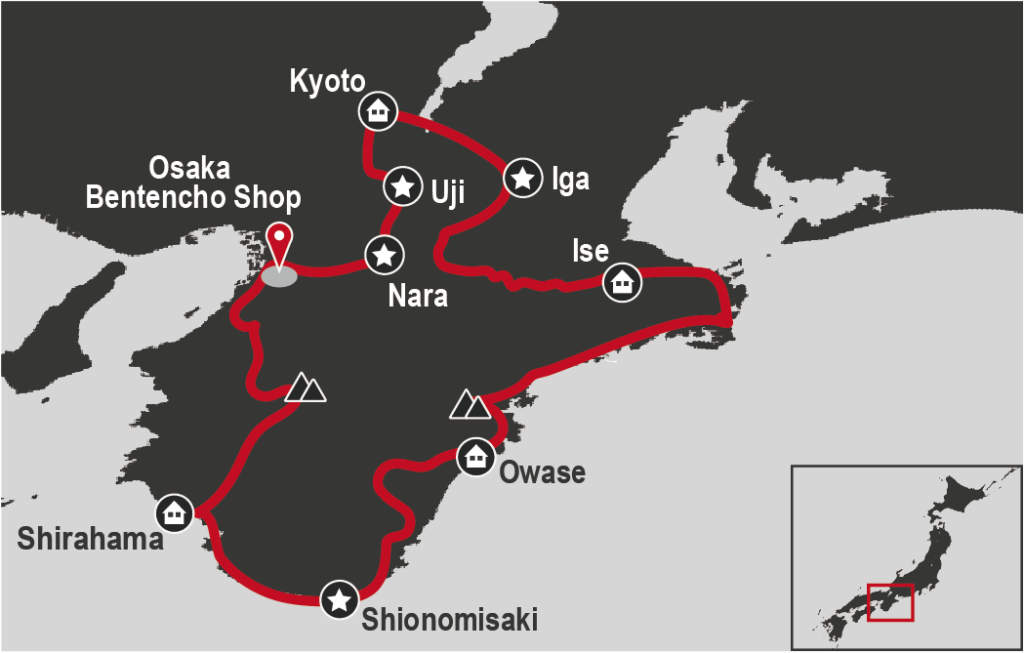 TOUR INHALT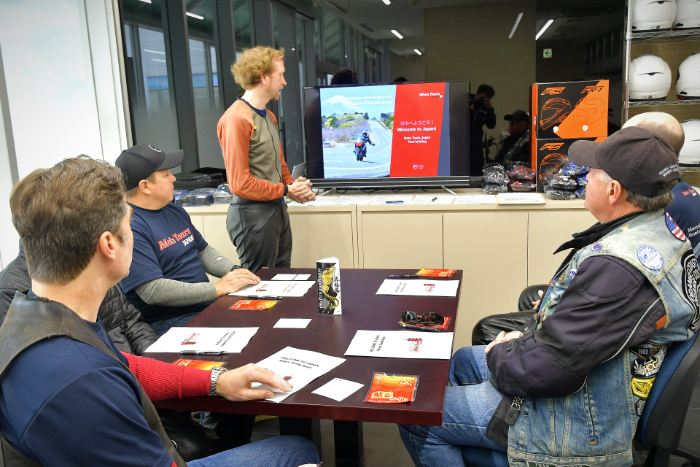 Day 0:

Briefing und Begrüßungsparty
On the day before our departure, our tour guides will hold a brief meeting time to let you enjoy your tour in Japan in with security and fun. They will explain you Japan's riding rulse, peculiarity, Japanese culture and of course your tour schedule in detail.
---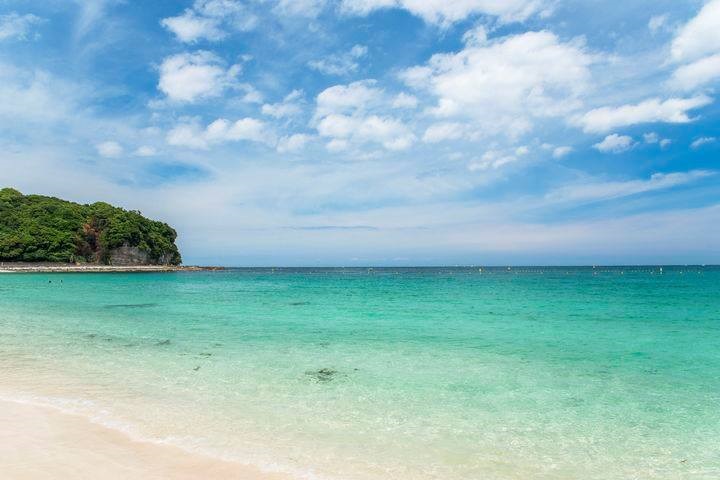 Day 1: Osaka → Shirahama
Today, after our deprt from Osaka we will be arriving at Mount Koya, one of the sacred places in Japan, center of Shingon Buddhism founded by one of the most significant religious figures in Japan's Buddhism, Kobo Daishi. Even being a small area, there is a full concentration of sacred places such as the Kongobuji temple, head temple of Shingon Buddhism and the Okunoin a 2 km walk to Kobo Daishi's mausoleum. We will then ride our way through the mountains to arrive at our hotel in Shirahama, one of the most ancient hot spring locations in Japan, its name means "white bearch", referring to a 500 meter long bright white sand beach, main attractions of this resort area.
---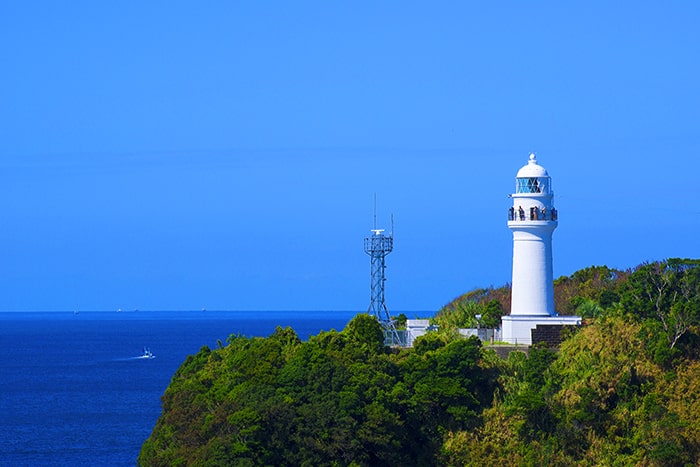 Day2:

Shirahama → Owase
On this day we wil first arrive to peninsula's cape Shionomisaki, historical location of several encounters between Japan and foreign countries. one of them is a touching episode about a Turkish ship crushing on this area's coast and the survivors being saved by local population, episode symbolized by the Turkish Memorial Museum. We will then move to Kumano, city full of nature, center spot of the Kumano prefecture and popular power spot, part of the ancient Iseji pilgrimage route. We will then ride to the coast to arrive on our beautiful resort in Owase to relax while enjoying the sea view.
---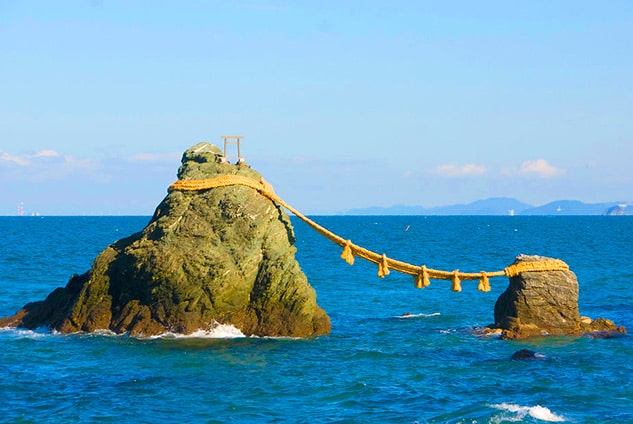 Day3: Owase → Ise
This day will be a whole coast riding day. We will depart from Owase, all the way to the north, enjoying the beautiful north-east coast of the peninsula. After a luxurious lunch on the sea, we will continue all the way to the north to arrive at the Ise temple, , a massive shrines group consisting in 2 main complexes, the Naiku (Inner Shrine), dedicated to Amaterasu Omikami, one of the most important deities of japanese shinto and Geku (Outer Shrine), dedicated to Toyouke, the deity of house keeping and nurture. We then arrive at our hotel in Ise area.
---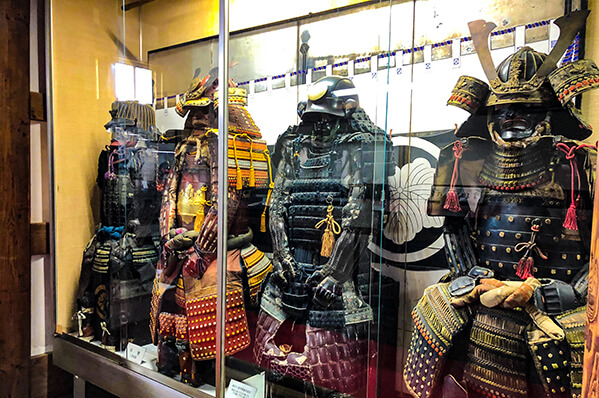 Day 4:

Ise → Kyoto
Today we will return on the mountains, departing from Ise and riding through Mie region, all the way to Nara, to go one more time to the north on some cury mountain roads with destination Iga, the land of ninjas. Here we will arrive at an authentic ninja museum, built into an original ninja house, full of surprises, hidden escpe routes, hidden doors and much more. We will be also able to attend ninja shows and to learn about the ancient ninja culture. We will then continue all the way to Kyoto, to rest and prepare for our grat Kyoto visit day.
---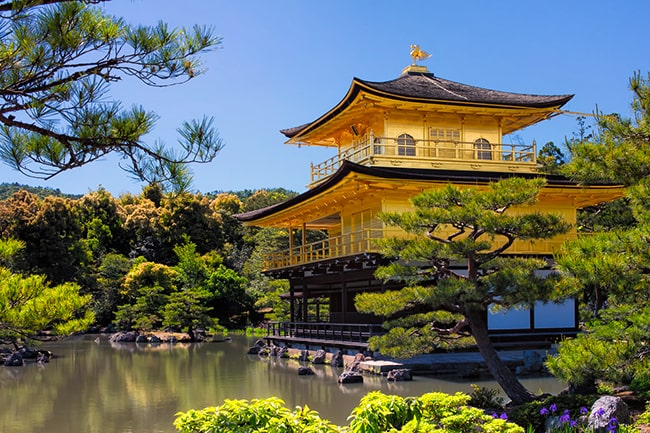 Day 5 :Kyoto Sightseeing
Today we will rest from the riding to see the iconic city of Kyoto, one of Japan's most popular cities. Emperor residence until 1868 year, this city's main feature is the presence of an enormous series of historical treasures and certified world heritages, like the Kyomizudera, or the Gold and the Silver Pavillions. Characteristic is also the Gion area, the ancient amusement quartier, where, if you're lucky, you can occasionally see an authentic maiko, an apprentice geisha.
---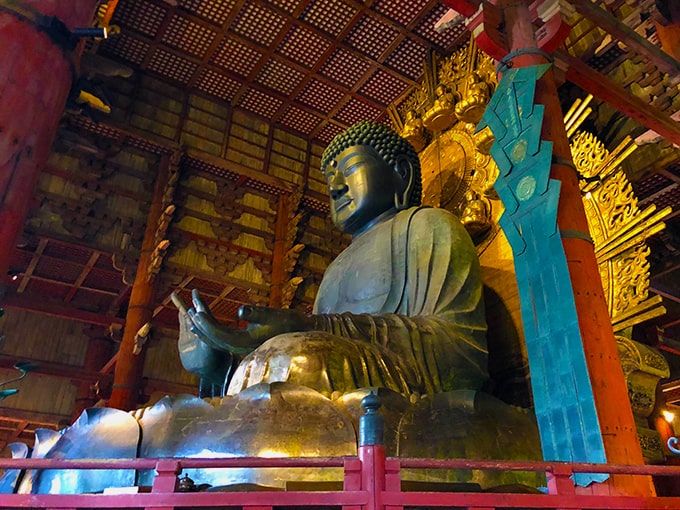 Day 6

:Kyoto → Osaka
On this last day, we will be visiting the museum dedicated to Hikaru Genji, historic and, more, romantic figure of japanese history, protagonist of the famous japanese narration Genji Monogatari (The Tales of Genji) to learn about Middle Ages Japanese culture trough the life of this iconic figure. We will then go to Mount Koya, one of the sacred places in Japan, center of Shingon Buddhism founded by one of the most significant religious figures in Japan's Buddhism, Kobo Daishi. We will finally visit Nara. First capital of Japan before Kyoto and Tokyo. Nara is famous for the Todaiji temple and its Daibutsu, a large Buddha bronze statue. Another main features of this magic city is the presence of free deers walking absolutely fearless along the place. We will then return to Osaka to return our vehicles. See you on your next ride!
---
PREISKALKULATION
Basis Preis : 3100 € p.p
Unterkunft
Option(Reservierung erforderlich)
Passagier hinzufügen
pre-tour Aufenthaltsgestaltung
 +82 Eur~
Helm(6Tagen)               +18Eur
Tandem hinzufügen                +2180 Eur ~
  after-tour Aufenthaltsgestaltung
+82 Eur~~
Handschuhe(6Tagen)+10Eur
Int.Fürhrscehein
+50Eur
Doppelzimmer
+ 0 yen
Tourennetz(6Tagen)               
+9Eur
 Einzelzimmer                   
+ 330EUR~
Gepäcktasche
 +35EUR    
MOTOR Up – Gread liste
P-3
+ 0 eur
P-4
+185eur
P-5
+330eur
P-6

P-7
+585eur yen
P-8

VTR250
GSX250R
Ninja250
YZF-R25
YZF-R3
Forza Si



GSX-S750
CB400SF
CB400SB
CBR250RR
CBR400R
Ninja400
MT-07
MT-09
NC750S
VStrom650XT
MT-09TRACER
CRF1000L
GSX-S1000F
CB1300SB
CBR800RR
Ninja1000



‐





FLSTC
‐
In die Tour inbegriffen
Anleitung für das Motorrad
Unterstützungsfahrzeug
Mietpreis des Fahrzeugs (mit Top-Case)
ETC Karte
ETC Gebühr
6 Nächte Übernachtung im Hotel
6 Frühstücke/ 6 Abendessen
Routenführung
Tourkarte
Tour Straßen-Karte
Nicht in der Tour enthalten
Flugticket (hin-zurück)
Mittagessen
Helme, Zahnräder und anderes optionales Zubehör
Gepäcktasche
Benzin
Reiseart
International Gruppenreise
Mindesten Anzahl : 4 Personen
Guide : English und Japanish
Veranstalter in Japan : Moto Tours Japan
Bezüglich der Zahlung
Bis 30 Tage vor der Tour ist keine Zahlung erforderlich.
Bitte zahlen Sie die gesamte Tourgebühr bis 30 Tage vor Tourbeginn.
Bei Buchungen innerhalb von 30 Tagen vor Reisebeginn ist die Zahlung zum Zeitpunkt der Buchung erforderlich.
Die Zahlung erfolgt per Kreditkarte.
Es wird eine Kaution erhoben.
Im Falle einer Stornierung der Buchung gilt unsere Stornierungsrichtlinie.
Jede Änderung der Tourinhalte führt zu einer Bearbeitungsgebühr.
Departing Store
Osaka Bentencho Store
〒552-0003
3-22-8 Isoji, Minato-ku, Osaka City, Osaka
Tel: +81 6-4394-8193
Flughafen
Kansai International Airport(KIX)
International airport located on an artificial island in the middle of Osaka Bay. In 2016, 25.2 millon of passengers using this airport made it the busiest airport in Asia. Consisting of 2 terminals, Terminal 1 and Terminal 2, Terminal 1, with it'S lenght of 1.7 km is officially the longest airport terminal in the world.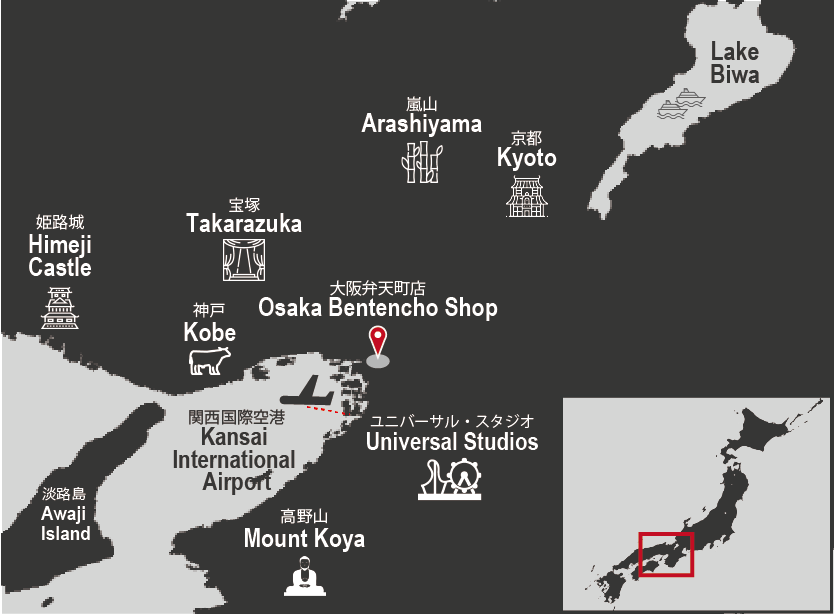 Stornobedigungen
| | |
| --- | --- |
| bis 25 Tagen vor Reisebeginn | Kosten frei |
| ab 24 bis 12 Tagen vor Reisebeginn | 30 % |
| ab 11 bis 8 Tagen vor Reisebeginn | 40 % |
| ab 7 bis 2 Tagen vor Reisebeginn | 50 % |
| 1 Tagen vor Reisebeginn | 80% |
| Reisetag | 90% |
| No Show | 100% |
Zahlungsfrist : bis 24 Tagen vor Reisebeginn